"There are conventions that are hundreds of years old in book design, and expectations readers bring to books that must be recognized and respected." — Joel Friedlander, How Much Attention Should You Pay to Book Design?
Interior Design & Layout for:
Novels
Short Stories
Flash Fiction
Anthologies
The Design Entails:
Frontmatter and backmatter.
Layout: Set margins, columns, pagination, and running headers to create a stylish arrangement that works for the trim and binding.
Structure: Design a scheme for front matter, sections, chapters, and heading levels.
Style: Select fonts, chapter opening pages to set the tone for the author, and book genre.
Decorative fleurons, drop-caps, etc.
Ksh. 40 per page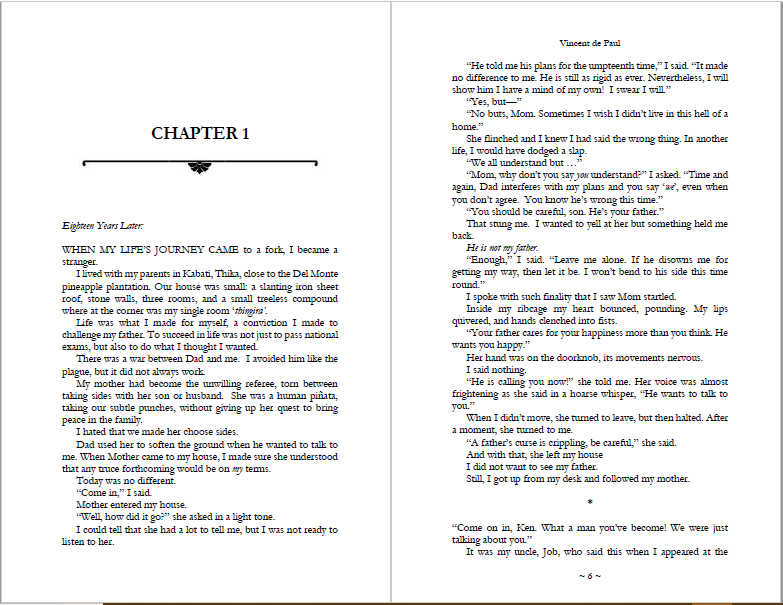 Submission Guildelines
Files: Submit your text via email in editable format (MS Word—.doc, .docx, .rtf) and any other material like charts or photos in JPEG or PNG.
Instructions: Provide any styling input you want to have on your book. This might be an extract from a book you like or a description of the look and feel you want for your material.
Trim size: If you have a preferred trim size for your book say so, otherwise we will use standard industry sizes for your book. Click here to download our Manuscript Preparation Guide to read more about standard industry book sizes.
Binding: Tell us how your pages will be held together—paperback or hardback, sewn or glued. We will then ensure the design includes adequate binding margin.
Colourspace: Let us know if you decide to print B&W or colour. Designing your book in colour can make it look fabulous but keep in mind it may be a lot more expensive to print.
ISBN: Provide your manuscript with all required information like ISBN so we add it to your copyright page during the design process.
Printer: We need to know your choice of printer in order to produce your final book print-ready PDF with their information (name, address, contact info, and website).